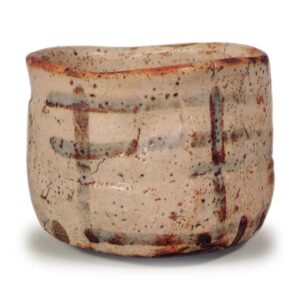 What is Shino ware?
 The clay, called "Hyakuso-do," is fired to a tight consistency and covered with a thick white glaze with a soft texture, and elegant patterns are often painted under the glaze with a cool brushstroke.
Shino is a type of pottery that could only be produced in the kilns in the mountains of Mino during the Momoyama period (1573-1600).
 Shino is characterized by the fact that it was the only Japanese pottery until the end of the 16th century that was glazed with a white glaze called "feldspar glaze. This is probably due to the difference in the quality of the clay and feldspar.
 When did this white glazed Shino start being fired in Mino? It is not known for certain, but it is certain that it was a representative pottery of Mino from the end of the Muromachi period to the beginning of the Edo period. However, it was not until 1930 that it was discovered that Momoyama shino was made in Mino, and this discovery was made by Toyozo Arakawa. Until then, it was assumed to have been fired in Seto, Owari, and even the "Shino ware derivation book" written in 1785 (Temmei 5) states that it was produced in Seto. At that time, the kilns that used to produce Shino ware were quietly buried in the mountains of Kani and Toki in Mino, and although many pieces of Shino ware were handed down, the history of Shino ware itself could not be relayed even though it was only two hundred years ago.
 Most of what is generally known as Shino was fired from the Tensho period through the Bunroku, Keicho, and Genna periods, with the best pieces seeming to have been fired from the Tensho period through the Bunroku period and the first half of the Keicho period.
 The characteristic of Shino is the white-fired feldspar glaze, but it is not clear at this point whether this glaze originated in Seto, Owari, which had superior technology earlier than Mino, or whether Mino potters were the first to use this glaze. It is also unclear when Mino first began to produce this glaze. Recently, however, Mr. Shoichi Narazaki, an assistant professor at Nagoya University, presented us with some very interesting data. It is a four-eared jar with a damaged mouth, in the style of the middle of the Muromachi period (mid-15th century) or earlier, and the clay seems to be Mino, not Seto. The glaze on the surface of the ware may have been made of ash, but it is truly a feldspar glaze, and to our surprise, a red clay with high iron content called oniita was applied under the glaze. In other words, the glaze is exactly the same as that used on Nezumi-Shino wares. Although the glaze is thin and not as artificial as later Nezushino, it is a new material that allows us to speculate that a precursor to Nezushino may have already been fired in some kiln in Mino in the 15th century.
 It is important to note that the jars were made before the end of the 15th century, and if there is a possibility that the kiln sites where they were fired will be discovered through future excavations, white tenmoku tea bowls with feldspar glaze without oniita makeup may naturally have been fired around the end of the 15th century.
 Based on the form of the bowls, we have seen several white feldspar glazed tenmoku tea bowls that are thought to have been made in the late 16th century in the Muromachi period. Among them, two white tenmoku tea bowls that are highly valued as extremely valuable materials were once owned by Takeno Shao'o, a great tea master in Sakai. After the Momoyama period, one came to the Tokugawa family in Bishu (Fig. 54), and the other to the Maeda family in Kaga. The Kaga Maeda family's tea bowl, in particular, has Sen no Rikyu's inscription "Shao'o set and white tenmoku" in ink on the cover of the inner box, and it is certain that it was the beloved tea bowl of Shao'o who died in 1555 (the first year of Koji). The two tea bowls are somewhat different in shape, but both are glazed with the same white glaze. Compared to Momoyama Shino, there seems to be a little ash mixed in the glaze, but it is clearly a feldspar glaze that is a precursor to Shino. It is not clear where this bowl was fired, but it seems to be of Mino clay.
 In the Tenbun period when Shao'o was active, the lords of Mino were already the Saito clan, but the fact that there was traffic between the Saito clan and the townspeople of Sakai can be seen in the tea ceremony record of Tennojiya Tsuda Sokai, dated September 18, Koji 3, or perhaps a newly made white Tenmoku from Mino was presented to the renowned tea master Shao'o. In any case, it is not clear where in Mino this bowl was made. In any case, we do not know where in Mino the tea bowls were made, but it is certain that the tea bowls that pioneered Shino were made before the middle of the 16th century, and the white glazed tenmoku continued to be made, and around Tensho, the white glaze was replaced by Nagaishi mono-taste to deepen its flavor, and tea bowls in half-tube and tube shapes as well as tenmoku tea bowls began to be made, and other types of tea bowls were made. and cylindrical shaped bowls became mainstream as well as tenmoku bowls. Under the glaze, elegant pictures were painted with iron pigments, and the Momoyama Shino style was completed. The popularity of the tea ceremony as a place of refinement increased the demand for tea utensils and tableware, as shown here. As shown here, the demand for Shino ware increased, and the variety of decorative designs became more and more varied.
What is Shino ware?
 Nagaishi glazed pottery fired in Mino during the Momoyama period is called "Shino" as a completely general term. The term "Shino" in the Momoyama period, however, is not used until the mid-Edo period, around the Kyoho and Genbun periods, as far as records show, when it is written as "Shino" and "Shino" in the Keiki by Konoe Yorakuin and the Potter's Manual by Kenzan, and in the Keiki, Shino inokuchi and small bowls are also called Oribe. In the Momoyama period tea ceremony chronicles, however, they are all described as "Seto tea bowls," "Seto tea bowls," or "White tea bowls, Seto. The "White Tea Bowl Seto" is probably a white glazed Shino tea bowl, but since most of them are only described as "Seto Tea Bowl," we do not know which of them they are, since there were black tea bowls (Seto Black, Oribe Black, Black Oribe or Ki-Seto) as well as Shino tea bowls fired at that time.
 Then, how did something that was not called "Shino" at that time come to be called "Shino" in later periods? Again, the details are unknown. However, from 1553 to 1586, at the end of the Muromachi period, one of the tea bowls often mentioned in tea ceremony records such as "Tsuda Muneyoshi Chayu Nichihi" and "Imai Munehisa Chayu Shozukuki" is called "Shino Tea Bowl". Moreover, it was one of only two or three famous tea bowls that existed in Japan, and it is said to have been used by Takeno Shao'o, Tsuda Munenori, and Imai Munehisa, all of whom lived in Sakai. It was owned by three of the greatest tea masters in Sakai: Takeno Shao'o, Tsuda Munenori, and Imai Munehisa. However, the tea bowl, which was called "Shino Tea Bowl," disappeared from the Kanda Ki after Tensho 14, and its whereabouts are not known at all. If this tea bowl was a Nagaishi glazed tea bowl, which is the origin of Momoyama Shino tea bowls, in other words, a tea bowl like the already mentioned "Jitenmoku", then the origin of the name "Shino" can be clearly traced. However, "Hakutenmoku" seems to have been called "Hakutenmoku" since that time, as Rikyu wrote in his inscription, "Shaooseto Hakutenmoku," and it is unlikely that Rikyu wrote "Hakutenmoku" again for the already famous "Shino Tea Bowl" at that time. Therefore, we must assume that the "Shino Tea Bowl" and the "Hakutenmoku" shown in the Chakai-ki were two different things.
 However, the "Shino Tea Bowl" may have been so named because it belonged to Munenobu Shino, who was famous as the founder of the incense ceremony. At present, it is not clear whether it was a Japanese tea bowl or a Chinese one imported from China, but from the description of the tea ceremony, it seems to have been a white glazed tea bowl, and the white glaze is common to the white Tenmoku and Momoyama period Shino tea bowls. And although it may be a bit too much of a leap, the fact that it is white glazed is common with white tenmoku and Momoyama period Shino. From this similarity, white tea bowls fired in Mino during the Momoyama period may have come to be called "Shino" since the beginning of the Edo period. A story that tells of the disappearance during that period is found in "Touki Kai" written in 1854 (Kaei 7), although the period is quite far down the road,
The name Shino Chawan was later passed down to Munehisa Imai, and it is said in the Meimono Ki that it was a Chinese item, and that this bowl was copied from a copy of a copy of a copy of a copy of this bowl made in Bishu, which is called Shino ware.
This article is also interesting in that it is a little too simplistic and incorrectly assumes that the tea bowls were made in Mino, but in fact they were made in Bishu, whereas they should have been made in Shino. In any case, we have no choice but to wait for further research on the origin and origin of the name Shino.
 In addition, the authors of the Momoyama Chakai-ki (Tea Party Chronicles of Momoyama) refer to all pottery produced in Mino at that time as Seto ware. This is probably due to the fact that Seto ware from Onoshu was also called Seto ware. This is probably because Seto in Oshu has been famous as a production center of pottery since the Kamakura period, and the pottery of Mino, which is descended from Seto, was regarded as Seto ware in general, but it should originally have been described as Mino tea bowls. This incorrect description was believed in modern times, and Shino, Setoguro, Oribe, and Kizeto ware made in Mino were believed to be from Seto in Oshu.
 Furthermore, from the late Muromachi period to the early Momoyama period, there is a tea bowl called "Ise-temmoku" that is often mentioned in tea ceremony records. In the "Tsuda Munenori Chayu Nikki" (Diary of Sosho Tsuda and Tea Ceremony), an article on the 11th day of the first month of the 9th year of Eiroku (1566) mentions "Ise-tenmoku white", and in the "Kamiya Sotan Nikki", "Shiroi-isetenmoku" is also mentioned in 15 Tensho (1525). If these Ise-tenmoku pieces are considered to be from Mino, it is thought that the same glazed tenmoku as Shino was also called Ise-tenmoku in the past.
  We have already mentioned that white feldspar-glazed tenmoku tea bowls, symbolized by the white tenmoku tea bowls owned by Shao'o, were apparently fired from the first half of the 16th century. These white tenmoku tea bowls are collectively called Shino tenmoku today. Shino tenmoku ware continued to be produced in small quantities, but in different forms, until the early Edo period, along with the blackish-brown glazed tenmoku ware (collectively called Seto tenmoku). Since they were also used for tea ceremonies, tenmoku tea bowls were the representative and traditional tea ceramics with the longest history in Seto and Mino, but a new style of tea bowls that were completely different from such traditional style, namely, half-tube or tube-shaped tea bowls with a stout waist, began to be popular in the Momoyama period, In the Momoyama period, a new style of tea bowls, namely, the hip-shaped semi-tube or tubular tea bowls, began to appear and became very popular. Moreover, they were not plain like tenmoku tea bowls, but had designs painted with iron pigments under the glaze. Although these bowls may not have been mass-produced because they were not common miscellaneous vessels, it can be said that a major shift in aesthetic sense took place among potters. Such a transformation could not have occurred spontaneously among the potters living in the mountains and their surroundings, but rather it was brought about by a major force from outside. If we look for the cause of this change, we cannot help but recognize the influence of the change in the taste of tea bowls of tea masters caused by the deepening of the WA style of tea ceremony.
What is Shino ware?
  It is not clear when the Momoyama style of semi-tubular tea bowls began, but if we look at the tea bowls used in the late Muromachi and Momoyama periods, it seems to have been during the Tensho period (1392-1573), and it was influenced by the tastes of Sen no Rikyu. Looking at the major tea ceremony records in Momoyama, the use of "Seto tea bowls" increased drastically from around Tensho 11 or 14 of the same period, but they were probably a new type of Seto tea bowls (Tenmoku?) different from those described in the tea ceremony records and records from the late Muromachi period from Tenbun to Koji. In other words, they were half-tube Shino or Seto black tea bowls. And from around the same year of Tensho 14, a black tea bowl that seems to have been made by Chojiro in Kyoto, called "Soyei-shiki" (Rikyu-shiki), appears in the Chakai-ki, and although Chojiro's black tea bowl and Seto black tea bowl are also drawn black and Chojiro's is more rounded overall, the shape is still based on a half-tube, and the shape is the same as that of the Seto tea bowl, From the fact that the formative characteristics that can be seen there are common, it can be inferred that the tubular shape came into vogue rapidly in the Mino kilns from around Tensho 14. Although there is no reliable data, the fact that Setoguro is now generally considered to be Rikyu's favorite is probably due to his disappearance during that period. What also suggests that Rikyu used Shino or Kiseto-like tea bowls is that on September 10, Tensho 18, at a tea party at Rikyu's Shuraku residence ("Kamiya Sotan Diary"), Sotan described the scene as follows: "I brought out a tea bowl and replaced it with a black tea bowl on the daisy. However, the only Seto tea bowls that are not black are white Shino or Kiseto.
 Although it is not a very reliable source, the "Kiln of Ohgaya" ("Mino Ancient Documents"), which describes a kiln in Ohgaya, Kani County, which fired the best Shino and Kiseto, says that the Muta-do kiln in Ohgaya was opened in 1577 by Kato Genjuro Kageshige, and it is true that this kiln was at its best from the middle of Tensho Period to the Bunroku and early Keicho Periods. The pottery shards excavated from the kiln site suggest that most of the excellent Shino tea bowls in the Shino tradition were fired at this kiln. Therefore, it is not so erroneous to conclude that Shino tea bowls based on the half-tube shape were actively fired from around the 10th year of Tensho to the beginning of Keicho period, from a comprehensive viewpoint. In addition to tea bowls, water jars, incense containers, flower vases, bowls, and mukozuke (a type of bowl with a small bowl) were also made, and Shino-like bowls and plates were also recorded in tea ceremony records after Tensho 14.
 There are various types of cylindrical tea bowls, including those that were thrown on the potter's wheel and the base was low and clearly cut out in a circular shape, and those that were thrown on the wheel and then altered by hand to give the appearance of a teirine tea bowl, and those that had a distorted base with a tsukegatate. and their paintings are also simple. The more interestingly shaped tea bowls with distortions and spatula marks seem to be more varied in their paintings.
 The condition of the glaze can also be roughly divided into two categories. There are two types of glazes: Shino with a reddish hue, which has a warm, deep flavor, and Shino without a hue, which has a smooth, melted glaze. These were once called Shino Oribe, and many of them were fired together with so-called Oribe during the Keicho period (1596-1600).
 It is clear that Shino ware of the Momoyama period was fired in kilns scattered in the two counties of Kani and Toki in Mino, and that it was fired together with Kiseto, Setoguro, and Oribe in the same kilns has been proven by excavation surveys since the discovery of the old kiln sites in 1930. Looking at the history of Seto-style ceramics since the Kamakura period, ash-glazed Kizeto and brownish-brown iron glaze, generally called Seto glaze, have been the mainstream, and Shino's feldspar glaze was developed later. Until the Keicho era (1596-1598), when the Karatsu-style continuous climbing kilns were built in Mino, pottery was fired in half-ground, single-chamber anagama kilns. Arakawa describes the kiln as follows: "The lower half of the kiln is underground, and only the upper half is above ground like an arch. The kiln is small and very young as a kiln, with a sloping opening at the bottom and a sloping opening at the top. As a kiln, it is small-scale and belongs to a very childish stage. Therefore, it is an inconvenient and uneconomical kiln that requires a lot of fuel. The temperature does not rise rapidly because of poor combustion due to a poor flame. This is why it takes a long time. However, this inconvenient and uneconomical kiln is most suitable for firing Shino with feldspar glaze. It is safe to say that good Shino can never be made in a kiln that can fire it in a short time. Indeed, looking at the shards excavated from the kiln site, it is clear that all of the Shino pieces with soft glazed skin with red fire color were fired in anagama kilns. Of course, not only the kiln, but also the clay, may have a lot to do with it, but the taste is very different between Shino fired in an uneconomical Anagama kiln and Shino fired in an economical climbing kiln with a continuous firing system. Until around 20 years ago, Shino fired in a continuous climbing kiln was called "Shino Oribe" to distinguish it from Shino fired in anagama. Recently, however, they have come to be referred to as "Shino" because they have the same characteristics, but their qualities differ markedly. Even in the Edo period (1603-1868), Shino plates, bowls, and mukozuke were sometimes labeled "orihe" (Oribe), and in the Keiki by Konoe Yorakuin, while writing "Shino" on tea bowls and water jars, a mukozuke that is typical of Shino Oribe is labeled "orihe. Thus, it seems that Shino and Shino Oribe were distinguished from each other from that time.
What is Shino ware?
 Shino ware was not so finely classified in the past, but today it is classified into plain Shino, Shino (E-Shino), Nezumi-Shino, Aka-Shino, Shino (Aka-Shino), and Shino (Aka-Shino). Today, however, they are classified according to their workmanship as plain Shino, Shino (E-Shino), Nezumi-Shino, Aka-Shino, Beni-Shino, and Neriage-Shino, and Mr. Arakawa adds Shiro-tenmoku as a type of Shino.
 There are many plain Shino tea bowls without painted or carved patterns, and the entire surface is covered with a white glaze, which are excavated from any kiln in Mino, However, in terms of stylistic transition, wheel-thrown teabowls of straightforward design without patterns can be considered to be the earliest.
 As for plain Shino, the tea bowl owned by Furuta Oribe, which was handed down to the Yabunouchi family in Kyoto, is an ancient one, and is similar in appearance to Setoguro. The so-called Shino Tenmoku, which is white glazed, should also be included in the plain Shino category.
 Shino (E-Shino) is the most common type of Shino, in which underpainting is done with iron pigments (oniita) and white feldspar glaze is applied over the underpainting. According to Toyozo Arakawa, the best Shino is produced at Ohgaya, but there are also excellent pieces produced at Ohira and other kilns.
 Nezumi-shino is a type of pottery in which the base is coated with oni-ita and then covered with a feldspar glaze. The pattern is created by applying the oni-ita and then scraping off the pattern and applying a white glaze over it.
 Akashino: The same technique as nezumi-shino, but fired in red instead of nezumi-shino. It is considered to be a different type of Shino from Beni-Shino. There is also a theory that Beni-Shino is not oni-ita, but is made of a yellowish clay called akaraku.
 Nerigami Shino Arakawa calls it Nerikomi Shino, but it is the opposite, as red clay was kneaded into white clay and then thrown on the potter's wheel. Therefore, when the potter throws it on the potter's wheel, white and red flecks appear as if it has been kneaded. Fierce Tiger" is an excellent example of Neriage Shino.